The beauty is not only in this artistic device…but in the glass of wine from it
Some people will always decant a wine before being served, not only due to the fact that it makes the wine taste better as a result of the oxidation that occurs, but also because it makes you look like a true wine connoisseur and it adds a little more glamor to the opening of a special bottle and sharing it with other wine lovers. The downside has always been the time consuming task of decanting and waiting to enjoy that bottle. 
That wait and hassle has been eliminated. Italia Living highly recommends The "Centellino" – Italy's Premier One-Dose Wine Decanter made from Murano Glass.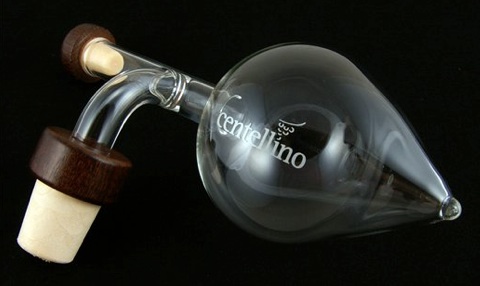 The Centellino is a top of the bottle wine decanter and aerator designed to enhance and enrich the overall quality of any bottle of wine.
Hand blown from one piece of Italian glass, this device is sturdy in design, looks impressive, and it serves the purpose of oxidizing wine, one glass at a time vs. having to decant the entire bottle!
Simply cork the bottle with the artistic device and pour into the Centellino amphora (which, for each pour equals one perfect 3-4 oz glass of wine). Next, pour from the amphora into your glass while it performs a double aeration releasing the full aroma and bouquet of the wine - which is the premise behind its claim to decant in moments, instead of hours. Additionally, you can feel comfortable in leaving the wine bottle uncorked with the Centellino wine decanter in it due to the fact that it protects the wine from further oxidation until one's ready to enjoy another glass.
A must have for every wine connoisseur and a beautiful gift for every occasion. The "Centellino" comes in an elegant gift box and is Hand-Made in Italy.