Expanding the visibility of Italian niche brands & sharing the Italian lifestyle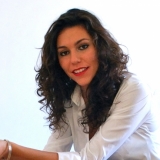 We would like to introduce you to the newest member of the Italia Living team, as Marketing Assistant and writing contributor.
Claudia Fanini is Italian, she was born in Verona but she has also lived in Los Angeles, Sydney, Linz and Hong Kong.  She has international experience with global public relations and marketing communications within the luxury goods and hospitality marketplace.  
Claudia's professional marketing career path has led her to GlobeAir, Private Jet operators in 2010.  GlobeAir makes business and private travel truly efficient, with a fleet of seven ultra efficient jets that can take you to 1,500 airports all over Europe.  The services provided by GlobeAir are first class and luxurious. Claudia has been committed to shaping and maintaining their image, organizing events and establishing promising partnerships – along with increasing recognition and visibility of the brand and building an international collaboration network.
Claudia's aim at Italia Living is to increase the popularity of Italian niche brands and give visibility to the best hot-spots and local venues, and to convey the authentic Italian traditions and lifestyle within the States.